Fredrik Virtanen skrev essän Din mobiltelefon gör dig dum och stressad i Aftonbladet 6/3 2015. Där driver han en tes om den andra digitala klyftan, det är alltså inte längre en fråga om vi har verktyg utan hur vi använder dem som blir avgörande.
Och när vi redan kippade ­efter andan, utarbetade eller ­arbetslösa, fullproppade med antidepressiva preparat och yoga­lösningar här i prestations- och utslagningssamhället så uppfann Steve Jobs på Apple en maskin som var så lätt att använda att ingen klarade av den.
…en maskin som var så lätt att använda att ingen klarade av den. Ja, vilka strategier skall vi använda med en ny uppsättning av verktyg? Gamla, befintliga eller måste vi ta fram nya? Här kanske MIK kan vara vägledande och ge oss handledning och material så att vi kan ta fram förhållningssätt och strategier på kort och lång sikt. För MIK handlar ju lika mycket om att filtrera, avinstallera, sortera och stänga av som att koppla upp, remixa och installera.
Jag har skrivit ned några av mina tankar i inlägget Temporala dimensioner i MIK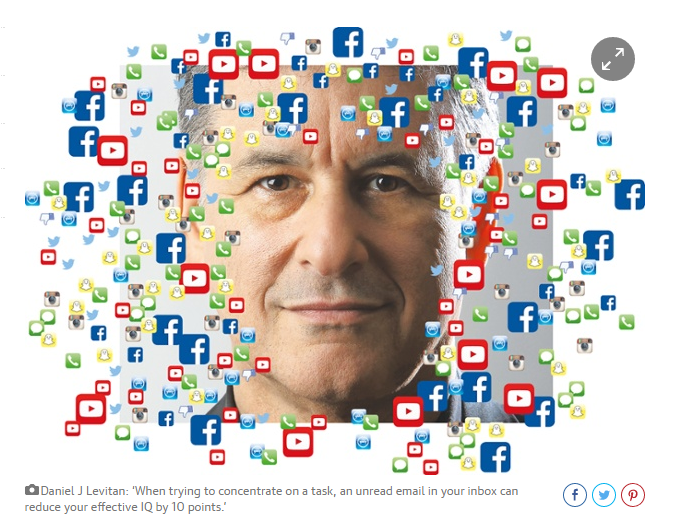 Fredrik Virtanen refererar till bland annat Daniel J Levitans artikel i The Guardian den 18/1 2015 – Why the modern world is bad for your brain.
To make matters worse, lots of multitasking requires decision-making: Do I answer this text message or ignore it? How do I respond to this? How do I file this email? Do I continue what I'm working on now or take a break? It turns out that decision-making is also very hard on your neural resources and that little decisions appear to take up as much energy as big ones. One of the first things we lose is impulse control. This rapidly spirals into a depleted state in which, after making lots of insignificant decisions, we can end up making truly bad decisions about something important. Why would anyone want to add to their daily weight of information processing by trying to multitask?
Nu kan man säkert hitta forskning som talar emot Daniel J Levitans tankar och propagerar för multitasking men oavsett vad tror jag att vi behöver möta frågeställningarna med ett allvar och fråga oss hur samhället, klassrummet och vardagsrummet skall se ut och vilka strategier vi skall använda och lära ut till våra kollegor och elever. På Twitter brukar denna typ av frågeställningar inte generera lika stort intresse, sidvisningar och retweets som när jag kommer med iPad-tips eller Google Drive-lösningar, vilket jag tycker är synd då utveckling och innovation kan ha många skepnader och faktiskt innebära en avstängd mobil eller surfplatta för att skapa ett lugn i läsningen av en bok av cellulosa.
Nu kryddar Fredrik Virtanen i och för sig sin text med hyperboler men faktum är att Douglas Rushkoff lyfter samma problematik med sina studenter från MIT i dokumentären PBS-Frontline Digital Nation Distracted by everything.
Är vi redo för diskussionen?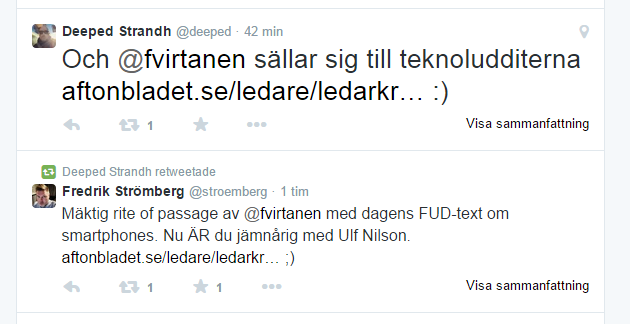 Liten parlör:
Luddit –  (men begreppet borde kanske användas så här istället. Motherboard:  You've Got Luddites All Wrong)
—————————————–
Om MIK
Temporala dimensioner i MIK. Del 1
Temporala dimensioner i MIK. Del 2